Rolls-Royce has signed a strategic partnership with Areva to supply key components for the French group's EPR reactor.
The Nuclear AMRC welcomed the partnership as good news for the UK civil nuclear supply chain. Both Areva and Rolls-Royce are founding members of the Nuclear AMRC.
Nuclear AMRC programme director Professor Keith Ridgway said: "We are very pleased that Rolls-Royce has signed this agreement with Areva. It is a vital step in the development of the nuclear supply chain in the UK."
The Nuclear AMRC is also pleased to announce that it has signed a Memorandum of Understanding with reactor provider Areva to help identify UK companies which can potentially join Areva's global supply chain.
Rolls-Royce and Areva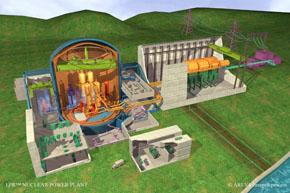 Under the new partnership, the two companies will work together to deliver projects for Areva's EPR reactor design. The agreement includes the first new reactors in the UK nuclear new build programme. EDF Energy and Centrica are planning to build four EPR reactors at Hinkley Point, Somerset and Sizewell, Suffolk, with the first operational by 2018.
Areva is also in discussions with the UK's other new-build developers, Horizon Nuclear Power and NuGeneration. Both groups will choose between the EPR and Westinghouse's competing AP1000 after the completion of the UK government's generic design assessment (GDA), due this summer.
Anne Lauvergeon, Areva chief executive, said: "We are delighted that Rolls-Royce, a world-wide symbol of excellence, will become a major industrial partner of AREVA. We look forward to sharing processes, knowledge and skills with them to ensure that UK industry can perform a key role in manufacturing the new plants to be built in the UK and abroad."
Sir John Rose, Rolls-Royce chief executive, said: "We have an excellent relationship with Areva, which is reflected in this important agreement. With 50 years' nuclear experience and an extensive nuclear supply chain, we can bring our significant expertise to bear for the benefit of the nuclear new build programme.
"This will deliver benefits to the UK and will further enhance the export potential in this fast growing sector."
Nuclear AMRC and Areva
In a separate development, Areva has signed a new collaborative agreement with the Nuclear AMRC to identify and support UK manufacturing companies which can supply Areva's projects in the UK and overseas.
The Nuclear AMRC will act as an entry way for companies which do not have an existing relationship with Areva, but which have the potential to become nuclear-capable and provide products within Areva's scope of supply.
Initial identification of potential suppliers will be carried out through the Nuclear AMRC's new Fit For Nuclear (F4N) programme. F4N is based around a questionnaire covering key areas of business operation and performance. The results tell a company whether it has the potential to supply the nuclear industry, and what measures it needs to take to meet the industry's requirements.
The Nuclear AMRC will then support these companies in developing their capabilities to meet Areva's requirements. The Nuclear AMRC supports manufacturers in three key areas: manufacturing process R&D; quality and accreditation; and training and skills development.