Machining R&D at the Nuclear AMRC focuses on developing innovative and optimised processes for the production of large and complex components for the nuclear industry. We aim to give manufacturers a competitive advantage by reducing cost, risk, and lead times.
The extremely large size of many nuclear components, allied with strict precision and quality requirements and a high cost of raw materials, presents significant challenges for standard machining processes. If anything goes wrong and a part has to be scrapped, the consequences can be severe – an entire multi-billion-pound build programme can be put months behind schedule.
Our machining group works with companies to help them optimise their production and compete on quality, cost and lead time. We can apply a range of technologies such as dynamic analysis, simulation, advanced fixturing and tool design to significantly reduce cutting time while maintaining the highest material standards.
We are also developing new approaches to the industry's most challenging machining problems, such as extreme deep hole drilling, or working on very large assemblies without the need for expensive gantry systems.
Our research factory in South Yorkshire is equipped with a range of state-of-the-art machining centres, including many with unique features tailored for the needs of the nuclear supply chain. Our machining group includes experienced machine operators, highly skilled technicians, and world-leading academic researchers, who work alongside our industrial partners to solve their machining problems.
For more information about our machining capabilities and research, contact Carl Hitchens, Nuclear AMRC head of machining & metrology.
Current resources include:
Dörries Contumat VTL
Very large vertical turning/milling lathe, capable of working on parts up to 5 metres diameter and 3 metres height.
Advanced features include ultra-high pressure coolant turning and high pressure coolant milling, and high-speed spindle (up to 14,250rpm).
Capable of producing reactor vessel internals, heat exchanger and steam generator tube sheets and support plates, wind turbine hub connectors, oil and gas wellheads, and large pump and valve casings.
Research focuses on new techniques for single set-up process security to provide consistent quality on the largest workpieces.
---
Soraluce FX12000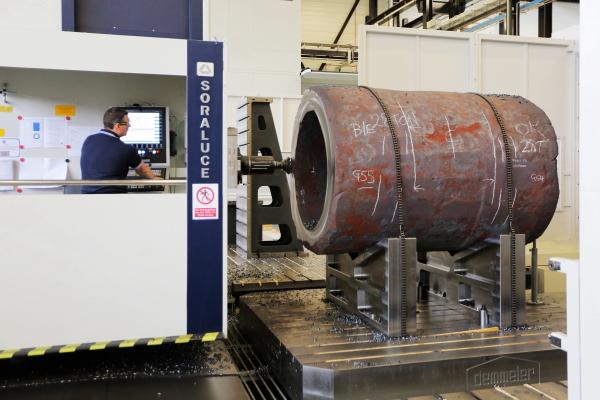 Very large floor-type horizontal boring machine, capable of working on pieces up to 12 metres length and 5 metres diameter.
Wide range of machine configurations, with advanced features including automated head changing, combined linear guidance and damping, and dynamic ram balance system.
Ideal for five-sided machining of very large complex parts, such as pumps, valves and offshore wind turbine hubs.
Research focuses on innovative techniques to reduce set-up times and provide consistent quality in single set-up machining.
---
Heckert HEC1800
Large high-precision horizontal boring machine, with turning, milling and deep-drilling capabilities.
Capable of taking components up to 3.3 metres diameter, 2.5 metres height and 20 tonnes weight.
Research is focused on developing new and innovative machining techniques for nuclear pumps, valves and tube sheets.
R&D into high-performance drilling of high length-to-diameter ratios on a milling platform, and use of ultra-high pressure coolant for high length-to-diameter drilling.
---
Heckert HEC800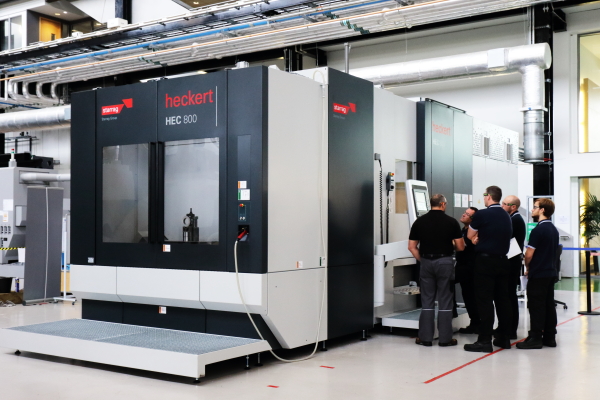 Heavy-duty machining centre for milling, turning, drilling and multi-diameter turn-face capabilities.
Spindle can be locked in either horizontal or vertical position using mechanical hirth coupling.
Tangential turning function for single point turning, boring and facing flange features.
Ideal for machining valve bodies and housings requiring turning, milling and boring.
R&D focuses on process optimisation and new techniques for special features.
---
Mori Seiki NT6600
Large multi-axis mill-turn machine.
Features include sub-spindle, bar support unit and three programmable travelling steadies.
Capable of machining very slender workpieces of over 6 metres length, or large components of up to 1 metre diameter and 7 tonnes weight.
Can produce a wide variety of components such as large seals and valve bodies.
Research focus is on innovative machining techniques for the rapid manufacturing of ultra-slender reactor components with length-to-diameter ratios of over 150:1.
---
Hartford LG-500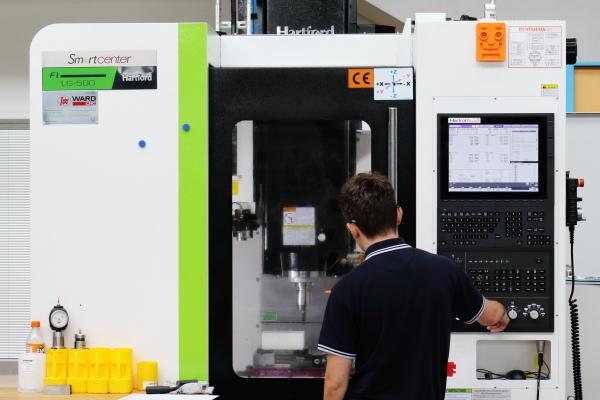 Compact machine tool for tapping, drilling and milling workpieces up to 300kg.
Advanced features include Fusion Coolant Systems supercritical carbon dioxide system, and SKF minimum quantity lubricant (MQL) system.
Comprehensive range of instruments to measure machining forces, temperature and power use.
Problem-solving for SMEs and sub-contractors.
Fundamental research, tooling optimisation and machinability studies.
---
Mazak Integrex i-200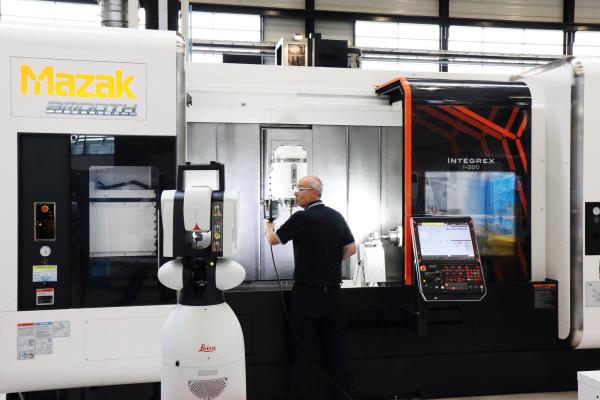 Single set-up high-precision machining on workpieces measuring up to one metre, combining the capabilities of a high-powered turning centre and full-function machining platform.
ChilAire near-cryogenic liquid carbon dioxide coolant system.
Comprehensive range of instruments to measure machining forces, temperature and power use.
Problem-solving for SMEs and sub-contractors.
Fundamental research, tooling optimisation and machinability studies.
---
TBT ML700
Large deep-hole boring centre, capable of drilling 5-110mm diameter and 8 metres depth.
Advanced features include the world's first programmable drill tube vibration dampers, high-pressure coolant system, and constant monitoring of key process variables.
Capable of producing key parts for reactor internals, plus high-value parts for oil and gas and other industries.
Research focuses on developing new techniques to drill extremely deep holes (length-to-diameter ratio up to 500:1) in a single automated process.
---
For detailed information about our machining resources, download the Nuclear AMRC equipment & capability directory (5MB pdf).