CGN, the global clean energy company, has concluded an agreement with the Nuclear AMRC to help deepen links between the company and the UK nuclear supply chain.
The wide-ranging memorandum of understanding (MOU) covers areas including the supply chain model to be utilised by Bradwell B, and how UK businesses can prepare themselves to participate in the project; how British companies and universities can add value to CGN nuclear operations in China and elsewhere; and how links can be built between Chinese companies and academic institutions and their counterparts here.
CGN plans to deploy its HPR1000 reactor technology at Bradwell in Essex, and is also co-investing with EDF Energy on its EPR development at Hinkley Point. The HPR1000 is currently undergoing the generic design assessment (GDA) for deployment in the UK, and is under construction at Fangchenggang in China (pictured below), the reference plant for Bradwell B.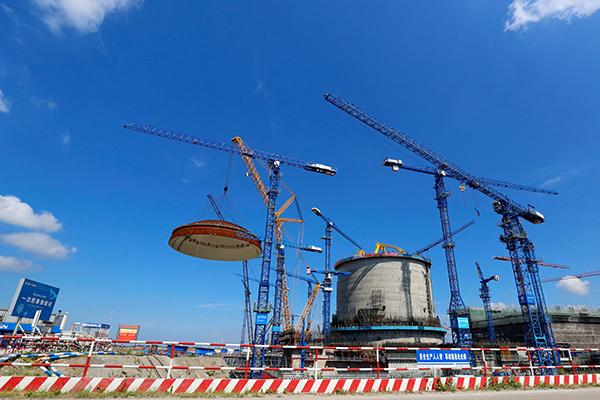 The MOU is an example of the cooperation and sharing of knowledge and experience agreed under the UK's new nuclear sector deal.
Zheng Dongshan, CEO of CGN UK, said: "This significant agreement with the Nuclear AMRC paves the way for our two organisations to develop the UK supply chain. It also will help to ensure that British companies are given the best possible opportunity to benefit from our planned investments in the UK nuclear fleet, and specifically our plans to build a new power station at Bradwell.
"The MOU also covers knowledge-sharing between the nuclear industry and academic institutions in the UK and in China.  Deeper relationships in these areas will enable us to learn from the best practice on both sides, including CGN's experience of consistently delivering new power stations safely and efficiently, which ultimately will help us together to deliver projects successfully here and elsewhere.
"CGN is committed to the UK for the long-term, both in terms of our plans for new nuclear and our existing and future renewable energy projects.  We have made clear that we intend to become a major and credible industrial player in the UK – and this agreement is a big step forward towards that goal."
Andrew Storer, CEO of the Nuclear AMRC, said: "We're delighted to sign this agreement with CGN, and look forward to strengthening our relationship for the benefit of UK manufacturers of all sizes.
"Working with CGN will allow us to help UK manufacturers make the most of the opportunities at Bradwell B. We have already helped hundreds of UK companies prepare for nuclear opportunities through our Fit For Nuclear and Civil Nuclear Sharing in Growth programmes – by working with CGN to understand their requirements in terms of quality and cost, we will be able to help UK manufacturers qualify, identify suitable opportunities, and win work at Bradwell.
"Our collaboration will also help UK companies and organisations access opportunities in CGN's operations in China and worldwide, supporting exports and sharing best practice internationally. It's a great example of UK industry and academia working with the global top tier for the benefit of all, in line with the aims of the new nuclear sector deal."