The Nuclear AMRC visualisation team develops virtual environments to support our work in product design, planning, assembly and training.
Virtual reality (VR) involves three-dimensional interactive environments which simulate real or imagined worlds or systems. We develop VR models to support projects including:
Product design and review.
Evaluation and training for assembly, repair and maintenance.
Virtual prove-out.
Building design.
Factory layout planning.
We can produce interactive VR models from standard CAD data, and integrate many different kinds of CAD file – from individual components to plant architecture – to create a detailed immersive environment. We can also integrate data from discrete event simulation and finite element analysis software to create four-dimensional environments which change over time.
For more information, contact Craig Hamer, Nuclear AMRC virtualisation research engineer.
Current visualisation and VR facilities at the Nuclear AMRC include:
Virtalis ActiveWall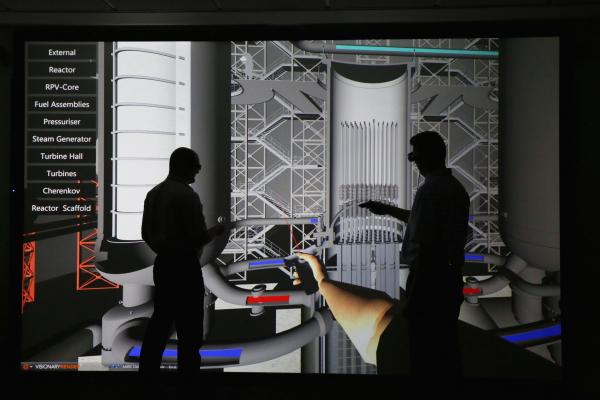 4.5 metre wide single-screen system with 3D back projection and 4K resolution.
Can be viewed by up to 25 people.
Can be linked to off-site VR facilities for collaborative working.
Wearable technology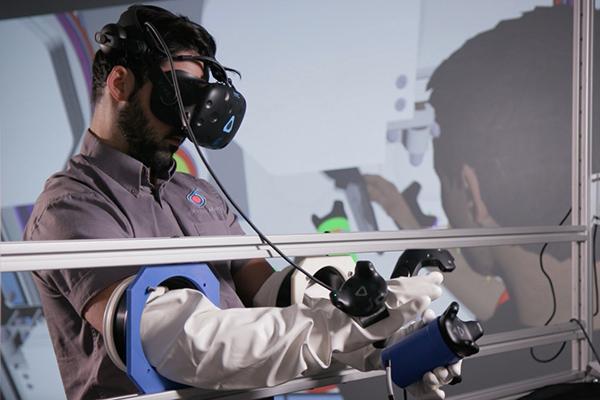 Hands-free technology for virtual reality and augmented reality.
Current equipment includes Oculus Rift and HTC Vive.
Applications in training, guided assembly, repair and maintenance.